Graphically Deb
Welcome to Graphically Deb's Search Site here you can do your research, figure your budget, shop for ideas & products and even order directly from the site.
You can also- and this is what we suggest- get a good idea and come to us. We will go to work to find the best pricing and deal that meets your defined goals for the products. Is this "just a giveaway"? Wrong answer, but we can start there. (The right products will build brand awareness and potentially grow your business-without breaking the bank).
Let's Talk!
questions@graphicallydeb.com
Featured Item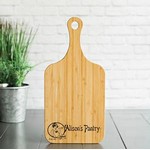 5.5x11.5 Handled Bamboo Wooden Cutting B...
Personalized Bamboo Serving Boards make the perfect corporate promotional product. Customize this item for your client today. Your clients will use this product again and again. Made from 100% Bamboo....
$7.50 - $8.99